HOJICHA < ROASTED TEA >15p Tea Bags / NET WT 1.05OZ.(30g)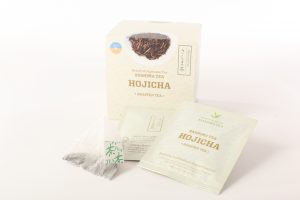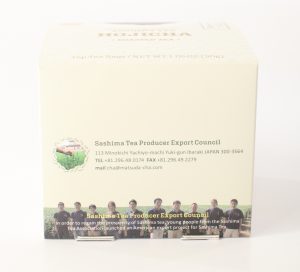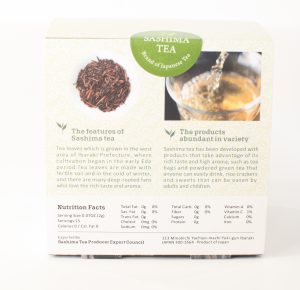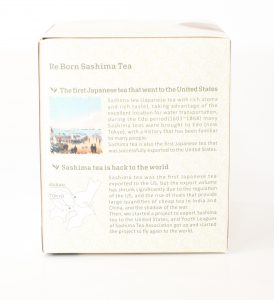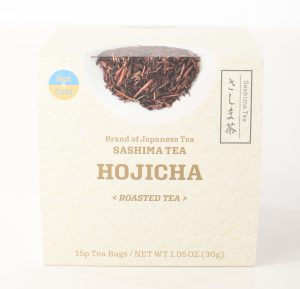 Hojicha is a type of Japanese green tea, roasted from Sencha, Bancha, and stem
tea. Hojicha has a unique aroma, has almost no bitterness or astringency, and
has a light taste, making it an easy-to-drink type of Japanese tea.
Re Born Sashima Tea
The first Japanese tea that went to the United States
Sashima tea (Japanese tea with rich aroma and rich
taste), taking advantage of the excellent location
for water transportation, during the Edo period
(1603~1868) many Sashima teas were brought to
Edo (now Tokyo), w ith a h istory t hat h as b een
familiar to many people.
Sashima tea is also the first Japanese tea that was
successfully exported to the United States.
Sashima tea was the first Japanese tea exported to
the US, but the expor t volume has shrunk
significantly due to the regulation of the US, and the
rise of rivals that provide large quantities of cheap
tea in India and China, and the shadow of the war.
Then, we started a project to export Sashima tea to
the United States, and Youth Leagues of Sashima
Tea Association got up and started the project to fly
again to the world
HOJICHA < ROASTED TEA >15p Tea Bags / NET WT 1.05OZ.(30g)
¥980